Tenth Ward Distilling Company Now Shipping Direct to Consumer in MD and DC, November 2021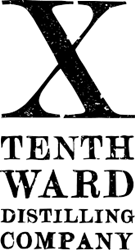 Now offering shipping to customers who want to order spirits and canned cocktails direct to their residence
FREDERICK, MD. (PRWEB) NOVEMBER 15, 2021
Tenth Ward Distilling Company now shipping direct to consumer for residents located in MD and DC, November 2021.
Tenth Ward Distilling Company, having opened its doors in July of 2016, is now offering shipping to customers who want to order spirits and canned cocktails direct to their residence. Tenth Ward is able to take advantage of the new direct to consumer (DTC) allowances that were put into place in the state of Maryland during the COVID-19 pandemic. Since there are only a small number of states allowing DTC for spirit shipping, Tenth Ward is opening shipping options only to Maryland and DC at the moment.
Those ordering shipping directly to their residence can find Tenth Ward's year-round products available on their website – https://www.tenthwarddistilling.com/shipping/. There will also be seasonal and holiday gift items available for shipping between late November and early January.
Customers can choose to have items shipped direct to their residence where they must be home at the time or delivery, or they can select the nearest UPS location from their home where packages will be held for pick up. Valid ID with proof of age for 21 and over is required to sign for any shipped packages.
Tenth Ward is proud to be woman-owned. Everything we make is non-traditional and unconventional, which is why we live fearlessly by our slogan – #wardoffordinary.